Wedding Service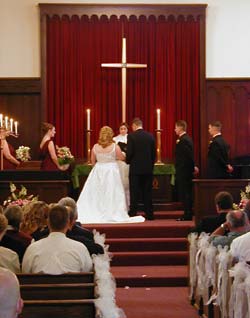 A wedding in our sanctuary is a religious ceremony. You are making your vows before God, your family and friends. Because you are making this choice, your marriage will have a firm base in God's love. The words, actions, musical selections, flowers and other decorative items must be respectful of the importance of the ceremony.
The Church and the pastor will provide an order of worship in keeping with the religious nature of the ceremony, the importance of your vows, and the joy you feel in your love and decision for commitment.
The addition of poems, prayers, and other words to the vows will be considered. All music and additions to the wedding service must be approved by the pastor at least one month before the ceremony.
Music
Our Church organist or pianist will provide the traditional church wedding music. Special music requests must be made by providing the sheet music to the organist one month before the wedding. If you want the organist to accompany a soloist, there will be an extra fee for practice times.
Cassette tapes or CDís should be brought in one month before the wedding.
Additional vocalists and instrumentalists are at the couples' expense. The pastor must approve their music in advance. The pastor must also approve the placement of additional musical selections in the order of service. As the Lord's Prayer is part of the ceremony, the use of it as a solo is not appropriate.
The Church sound system is to be operated by our sound board technician only.
Photographers
Please make your own arrangements for a photographer. That photographer must check with the wedding coordinator at the time of arrival at the wedding ceremony.
No flash pictures may be taken at any time during the ceremony. The photographer must stay at a distance, out of the sight of the congregation, and must not interfere
in the ceremony in any way. The pastor will be available for pictures immediately after the ceremony.
Video recording and still, available-light photography at a discreet distance is possible. The wedding coordinator has final word on what is appropriate. We keep a scrapbook for our memories, so an extra photo of your wedding would be appreciated.
Floral & Decorative Preparations
Please make your own arrangements for a florist. The florist should provide any stands you will need.
No tacks, nails, or tape can be used. Flowers or decorations may not obscure the cross. The paraments on the altar and lecterns must remain in place.
You may begin decorating the evening of the rehearsal.
Flowers must arrive two hours before the wedding.
The church will provide two candelabras that hold seven candles each. The length of the aisle from the inner narthex doors to the steps is 45 feet; the distance from the steps to the altar is 21 feet. Runners must be securely held to the floor.
Rice, birdseed, or confetti may not be thrown in the church or near the church premises.