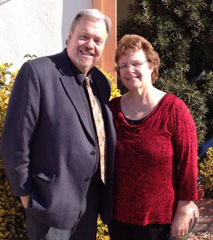 November 2018
As we approach another Thanksgiving day, I am reminded of two stories:
An older woman shared that each morning, as she took her walk, she gave thanks for the many blessings in her life. Though she walked slowly through her neighborhood, burdened by the aging process and the grief accompanying her years as a widow, she confessed that she never ran out of things for which to be thankful. Her simple practice of thanksgiving shaped how she lived her life, faced aging, and related to others.
The second story tells of a shopper at the local mall who felt the need for a coffee break. She bought herself a bag of cookies and put them in her purse. She then got in line for coffee, found a place to sit at one of the crowded tables, took out a magazine, and began to sip her coffee and read.
Across the table from her sat a man reading a newspaper. After a minute or two she reached out and took a cookie. As she did, the man seated across the table reached out and took one too. This put her off, but she did not say anything. A few moments later she took another cookie. Once again the man did so too. Now she was getting a bit upset, but still she did not say anything. After having a couple of sips of coffee she once again took another cookie. So did the man.
She was really upset by this - especially since now only one cookie was left. Before she could do or say anything, the man took it, broke it in half, offered half to her, and proceeded to eat the other half himself. Then he smiled at her, rose and walked off.
The woman was steamed! Her coffee break had been ruined, and she began thinking ahead of how she would tell of this offense to her family. She folded her magazine, opened her purse, and there, found her own unopened bag of cookies. She was embarrassed and thankful all at the same time.
I like that story - it makes me think about how well God treats me even when I am not treating Him well or take His blessings for granted. Throughout the day we should be like the first woman and give thanks -- remembering those who have supported you and upon whom you depend on today; and look for the movements of God in every interaction.
This is a wonderful life that beckons us to give thanks at every turn. Give thanks in all circumstances. Give thanks for everything. Give thanks at all times. If the only prayer you make is "Thank you," that will be enough. And, "thank you" can be said over and over again not just to God for the blessings of this day, but to everyone whose life touches yours in a creative and surprising way.
Thanks be to God!
Glen
"The Historic Church on the Move!"