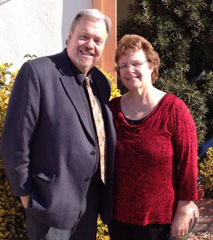 December 2018
What a privilege we have as Christians to celebrate the birth of Jesus during this holy season. Sunday, December 2, begins our Advent journey which culminates with Christmas Eve worship on Monday, December 24 at 6:00 pm. On that evening, we will gather as millions around the world to sing carols, pray and light candles. We will sing:
"Joy to the World, the Lord is come! Let earth receive her King; let every heart prepare him room, and heaven and nature sing."
These occasions bring back wonderful memories. I encourage you to plan to join us on Christmas Eve and on each Sunday during Advent at 10 AM. Our children will lead us on December 16 with their play, "'Twas the Night Before Jesus."
The birth of a child is a miraculous occurrence; God's gift of life calls us to be reverent and hopeful. The process itself amazes us; in an instant a new boy or girl is living and breathing when moments earlier we could not see them. As important as each human birth is, they pale in comparison to the birth of our Savior. No birth in human history has been more significant than this one.
Jesus' birth meant that God chose to be physically present among us. A God who seemed distant and unknowable to many had come very near.
Does God seem very near to you in this season? Take a moment to contemplate what Jesus' birth means to you. He came not only as Savior, but as the Prince of Peace. His birth means that God feels what we feel. When Jesus lived among us He experienced hunger, sadness, anger and rejection. Jesus knew the frustrations and joys of being part of a family. I trust that His loving presence will bring you joy and enable you to slow down and experience the richness of these days which can seem so hectic.
Jesus' birth set our history on a new course. Our calendar is dated by His birth; our future is shaped by His life, death, resurrection and promised return. His example shows us how to live and bring light and love to everyone. He embraced the powerless, the poor and the outcast. His life was one of empathy and generosity. In response to His birth, the Magi brought gifts: gold, frankincense and myrrh. Christians have continued to bring gifts to honor Him.
During this season, may every gift be offered out of gratitude for the birth of our Savior.
Thanks be to God!
Glen
"The Historic Church on the Move!"