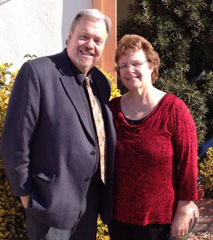 July 2017
Just the other day I read a great article from The Upper Room. The writer compared our lives and sin with that of "carry-on" luggage. Airlines typically allow you one carry-on piece of luggage—however, that piece of luggage must be small enough to fit in the overhead bins, and has a weight limit as well.
I related to the comments of the writer, because I have pushed the limits of trying to pack as much stuff in my carry-on as possible—often exceeding the weight limit—and many times, I have had to push and push to get my bag in the overhead storage compartment.
There was even a time or two when I had to repack my bag so that I could take it on the plane with me. It wasn't that I wanted to disobey the rules, but rather that I was simply afraid that my bags would go in one direction and me in another. I did not want to let go and trust the airlines with my possessions.
I might add that I have only had my luggage lost once. And, the luggage was delivered to me the next day. So, in reality, my luggage was never really lost; it simply missed the flight I was on and was placed on the next flight.
Well, God and His ways can be trusted much more than any airline with my possessions, and especially with my life. I am learning every day to let go and let God have His way. It is not easy, because the world teaches us to take care of ourselves and to trust no one. And, because we can be pretty stubborn. I know I can.
Let me quote the article for you so that you can reflect on your own life:
"As I reflected on that incident, I realized that in many ways I have treated sinful habits like carry-on luggage. I have carried around my lust for material possessions, hunger for approval, and appetite for sensual pleasure. I've depended on their presence to feel good about myself. However, they offered little relief from my emotional or spiritual struggles. I am learning that God's opinion of me is what matters. And because Christ is my Lord and Savior, I am accepted, loved and valued."
God truly wants only what is best for your life and for mine; and He reminds us that He knows what we need, and He will provide it for us.
In Jeremiah 29: 11-13 (NIV), God says: "For I know the plans I have for you,' declares the Lord, 'plans to prosper you and not to harm you, plans to give you hope and a future. Then you will call on me and come and pray to me, and I will listen to you. You will seek me and find me when you seek me with all your heart.'"
The Fourth of July, our Independence Day celebration, is almost here, and we are in the midst of vacation time. I encourage you to spend some of that time with family, friends, and by yourself with God who is always there to help with the baggage we "carry-on" and bring us true freedom!
Glen
"The Historic Church on the Move!"