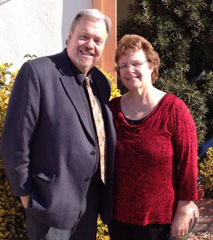 January 2019
January is the beginning of a new year. It's natural at the beginning of a new stage, like a new year, to think about how we might apply what we have learned in the past with the hope of improving the future. To this end, many of us will set new goals and make resolutions. We will dedicate ourselves to new and exciting projects. Many of us will finally clean up or improve part, or all of our house. Some will sign up for a new class and try to learn something new. Others will focus in on kicking a stubborn old habit that isn't healthy and of course, there will be many who will try with all of their might to diet and lose weight. In some cases, the project that most obviously needs our time and attention is much deeper and personal than any of that.
As the New Year begins, some of us are faced with the reality that it's our feelings, our thoughts, patterns, priorities; our anxiety and fear, or even our personal relationship with Jesus Christ that needs to be improved. When faced with these things, it's easy to be overwhelmed. Whatever our project or goal or resolution may be, I have found that, with many things, it is very wise to begin, not at the beginning of the project and work toward the end, but to do just the opposite.
It's quite often very advantageous to start with the end of the project in mind, and work, step by step, back to the beginning. In other words, imagine what the final product looks like. Start there. Imagine in your mind's eye what the final, climatic day of your event will be like and trace your way back, step by step, to where you stand right now.
Because it is January and because Christmas has just concluded and because Christmas celebrates the birth of Jesus Christ, many Christians will start the New Year and this new stage with that in mind. Yet, we must never forget that it is the end of the Jesus story that defines the beginning of the Jesus story. It is what God did for us on Good Friday and Easter Sunday that makes Christmas so special. As Christians, we must start with the end and work our way back to Christmas. We start with the Good News...the atonement and the forgiveness of our sins that Jesus secured for us with His death and resurrection and then, with those firmly in place, suddenly the story of His birth elicits songs of genuine joy and praise and humble worship.
With that in mind, start with the fact that because of what Jesus did, you are already a child of the Almighty God and then begin your year. Start with the fact that all of your sins have already been forgiven in the blood of Jesus Christ; start with the knowledge that in the love of God, you are already brand new...for eternity! Start your day with that knowledge in place and established. Don't work toward becoming a precious gift in God's eyes, live the rest of your year and the rest of your life in the full and joyful knowledge that you already are a precious gift in God's eyes!
Don't start with joy; start with the reason for the joy. You are a beloved, forgiven child of God. Nothing can change that. With that in place, there's no telling how great today, tomorrow, and this entire year will be. Thanks be to God!
Glen
"The Historic Church on the Move!"