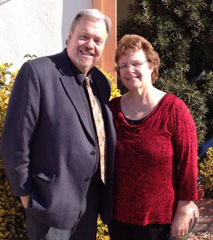 March 2019
What is Lent? The word "Lent" comes from the Old English word "lengten," which simply means "spring" — when the days lengthen and new life springs forth. It is a time in which we anticipate the victory of the light and life of Jesus Christ over the darkness of sin and death.
It is, to borrow a phrase from C.S. Lewis, Lent is a season of "happiness and wonder that makes you serious."
One way to get serious they say is to, "Begin at the beginning" We will observe Ash Wednesday on March 6 at 12 noon with a service in our sanctuary.
Then to go back even further, our adult study for Lent will focus on the Feasts of Israel. Class will begin on Thursday, March 14 at 2:00, and will cost is $6.
It is our prayer that as you journey with us from Ash Wednesday to Easter, you would be reminded of the reality of our broken humanity, but as days grow brighter, you would experience with greater abundance the reality of God's redeeming grace. And so, just as we carefully prepare for big events in our personal lives, such as a wedding or commencement, Lent invites us to make our hearts ready for remembering Jesus' death and resurrection.

Glen
"The Historic Church on the Move!"