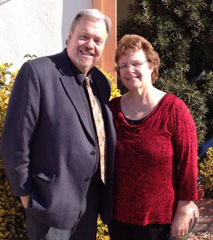 September 2018
It was a sunshiny, Tuesday morning with hardly any clouds in the sky. Everything seemed so bright and fresh and wonderful. It was going to be a great day.
We were living in Oakdale, California at that time, and I did something I normally didn't do. I flipped on the Today Show to watch the headlines before going to the office. It was then that that bright and beautiful day changed as I saw the catastrophe of the terrorist attack on the World Trade Center in New York City. I will never forget what I saw that day as the events unfolded. I sat on the end of the bed for what seemed days, glued to the TV.
The events of 9-11 may seem like long ago now, but, they still highlight for me what really matters more than ever. Our world needs to know the Good News about Jesus Christ now more than ever! There are a lot of worldviews out there about how to find happiness and get to Heaven, but one fact remains-- Jesus said, "I am the way, the truth and the life. No one comes to the Father except through me."
Seventeen years later, the only hope, the only comfort, the only answer is Jesus Christ. Let's do all we can to share Him with everyone we know.
A special shout out to the great work of our First Responders – Fire, Police, Medical & Military.
Love our Country and love being you Pastor,
Glen
"The Historic Church on the Move!"