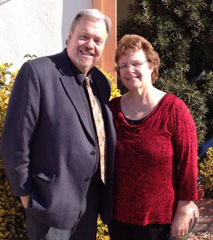 March 2018
Lent is a season that I have always had mixed feelings about. It's a time of year that signals to me that I need to "beef up" my spiritual practices. I have to say that even as a pastor the need for spiritual practice is a must. Not because it makes you holier than the next person in the church or because as a pastor you are a "resident theologian" but because it's always a good and joyful thing to draw closer to God.
Take-On Vs Give-Up. We are used to the idea that we must "give up" something for Lent, usually something that we consider an indulgence like: chocolate, soda, video games and so forth. Then, when we back slide by giving into the need for chocolate, or that which we are trying to give up, we feel a sense of failure and shame, like we have let God down.
Lent is not meant for shaming and tearing yourself down. It is meant to build up the connection between you and God. The act of giving up something is letting something go so God can fill up that open space. I believe you can have God fill up a space in your life, by taking on something rather than giving up something. So the idea of taking on something is like telling yourself; I want to get better at playing piano or improve my baking. "Practice makes perfect," the old saying goes. So, instead of giving up, you take on the practice so you can get better at it.
For example, take on reading the Bible. Start with two chapters of any Gospel per day. After 40 days you will have finished a gospel or book of the Bible. Small steps to big goals. Pray 10 minutes a day, over 40 days, it is time well spent with God.
Jesus was tempted for 40 days and 40 nights, Matthew 4:1-11 reminds us that Jesus walked in our shoes. Jesus knows how we feel. As the Apostle Paul said to the Philippians (Philippians 4:13), "I can do all things through Christ who strengthens me." Paul is also saying that to you and I. Christ is our life coach urging us to move forward in our challenges and for us to remember we don't run the race of life alone – Jesus Christ goes with us step by step.
This Lenten season, have no fears or apprehensions. Take on a new or old spiritual practice, and build on it for 40 days. See where God takes you. See what the Holy Spirit will reveal for you. We can only make discoveries if you are willing to begin the search and adventure.
May your Lenten season be fulfilling and joyful!
Glen
"The Historic Church on the Move!"