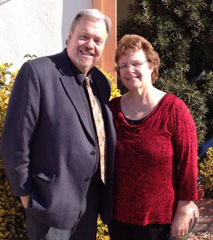 July 2018
On Wednesday, July 4, we will celebrate Independence Day in the United States.
We celebrate the independence of our nation with fireworks, parades, picnics, baseball, and family gatherings. Our freedom is a precious gift that must never be taken for granted. Two of the freedoms I find most important are our freedom of religion and freedom of speech.
As Christians, we enjoy another freedom that is not unique to our nation. This is the freedom to know we are the precious daughters and sons of God. God claims us as one of His Children through the work of His Son, Jesus Christ. Galatians 5:1 reads: "For freedom Christ has set us free. Stand firm, therefore, and do not submit again to a yoke of slavery."
Our Christian freedom is not dependent on the work of any government. It is a gift from God. Paul continues with this theme in Galatians 5:13 and 14: "For you were called to freedom, brothers and sisters; only do not use your freedom as an opportunity for self-indulgence, but through love become slaves to one another. For the whole law is summed up in a single commandment, you shall love your neighbor as yourself."
What will we do with our Christian freedom? I trust that you will apply your faith and our freedom of speech to say a word of encouragement to a family member, friend, neighbor or co-worker.
In a hurting world, a word of grace and comfort can have a lasting impact. As we love our neighbors, are there new opportunities for you to welcome a stranger, feed the hungry, clothe the naked, visit a prisoner or rescue a widow or orphan? May we give thanks to God for the freedoms we enjoy.
May God in Christ bless you richly,
Glen
"The Historic Church on the Move!"