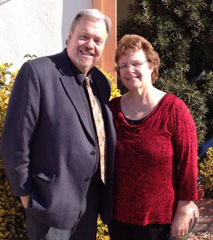 September 2017
During the summer of 1904 an unlikely partnership was formed at the World's Fair in St. Louis.
It was a very hot day, and people were searching for something to help cool them off and found that Arnold Fornachou had just what they were looking for - ice cream.
Folks lined up for what seemed like miles to get some of his cool, new product. But, there was one problem. Arnold was not prepared for the demand and ran out of the paper bowls he served the ice cream in. So, he was forced to wash a few porcelain bowls he had over and over again. The result was a lot of customers getting impatient glares while they finished their treat.
Next to Arnold's ice cream booth was the booth of a pastry chef named, Ernest Hamwi, and he was making a Persian waffle desert called zalabia. He too, had a problem. His pastry wasn't selling.
He noticed the problem Arnold was having and took some warm zalabia and rolled it into a cone shape. He then went over and showed Arnold how it could hold a scoop of the ice cream. On that hot day during the World's Fair, the ice cream cone was born!
I am very grateful to Arnold and Ernest! Their partnership brought Terry and I joy last week as we enjoyed a few ice cream cones on our cruise.
But, as unplanned as that partnership may have been, what amazes me about our God, is that His plan has been from the beginning.
His plan for the salvation of all humankind is a surprising partnership with us! He's provided sweet forgiveness and eternal hope in His Son, Jesus Christ. But, He puts it in a cone like me…and you to help it be served to the world.
I guess you could say that we need to be willing vessels of His treat.
Glen
"The Historic Church on the Move!"